We are currently hiring for the position of Programming Assistant. Please see additional details below.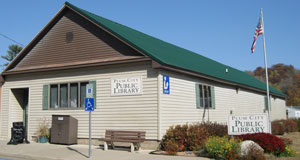 Programming Assistant
Job Summary

The Programming Assistant performs a wide variety of support tasks in relation to programming, as well as information requests and referrals, collection development and maintenance, customer service, outreach, public desk, and clerical tasks. They use their knowledge of library materials, programs, and services to provide superior customer service to library patrons.
Preferred Qualifications
Be at least 18 years of age.
Proficiency with current technology.
Ability to understand and follow written and oral directions.
Ability to receive coin and currency and make correct change.
A willingness to learn and take direction.
Ability to work accurately with minimal supervision.
Ability to establish and maintain effective working relationships with co-workers and the general public.
Accountability to be present and on time for scheduled hours.
Working knowledge of library material, services, and procedures.
Ability to work enthusiastically and effectively with children, teenagers, and adults in the library and community.
Positive attitude, enjoyment of challenging work, ability to meet deadlines, and a willingness to work in a flexible environment with quickly changing tasks and priorities.
To Apply
Applications can be mailed, emailed, or returned in person.
Plum City Public Library
611 Main St. PO BOX 203
Plum City, WI 54761
c/o Library Director
Emailed applications can be sent to director@plumcitylibrary.org
We are an Equal Opportunity Employer.