Mission
The library provides quality materials in a variety of formats, as well as informational, educational, cultural and recreational services and programs for all. We welcome you to see for yourself what the library has to offer.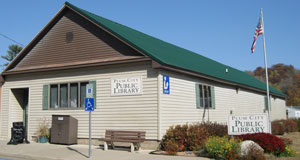 Hours
Closed to the public until further notice, as of March 18th, 2020
Appointments available Monday, Wednesday and Fridays between 10am- 4pm. Call to reserve your time. Appointments run 20 minutes.
Curbside pickup available. Please contact for details.